Marine Life Programs and Wildlife Reports
Wildlife Reports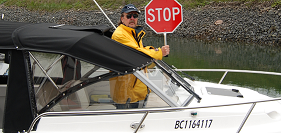 This year, Lifeforce is posting regular reports and photos of our work on the water.

Please return to this page often as we are frequently adding new reports.

Click on any of the date headings below to read the details of each report:

September 2009 - Wildlife Report
The September Labour day weekend was a stormy one. The rough seas made our boat monitoring work to protect orcas easier since very few boats ventured out into Georgia Strait. As gale warnings were posted even some whale watch companies cancel – a pleasant surprise as they have been out in extreme weather in the past. Lifeforce has urged govt to stop their operations during storms and fog.



August 2009 - Wildlife Report - Part 2
One of the most important actions to protect orcas is to promote land-based whale watching that is popular worldwide. Lifeforce's Orca Trails was created in the 90s. We report to Park Managers when the orcas will pass by marine parks. One such location is Lighthouse Marine Park in Point Roberts where orcas will pass by as close as 50 feet off the beach. Orcas are often present during some mornings, afternoons and sunsets.



August 2009 - Wildlife Report
August stated off with an incredible orca pass by on August 1st off Lighthouse Marine Park, Point Roberts, WA. J. K and L pods did a number of breaches as they travel past for nearly one hour. They started at approx. o610 and ended at 0710. They were very spread out and moving quickly into rough seas. At times there were groups of four to six orcas surfacing about 50 feet off the beach. No boats present to interrupt their lifestyles. This was the opening day of the Point Roberts Art and Music Festival. Lifeforce was present with our education displays, photos and our volunteer's craft work.



July 2009 - Wildlife Report
On July 3rd Lifeforce spotted the Southern Community orcas off the Westshore Terminals (Tsawassen) heading towards the Lighthouse Marine Park in Point Roberts. J pod was travelling through with no stops or activities such as breaches. Harbour porpoises were also present.



June 2009 - Wildlife Report
Here's the June report about Lifeforce wildlife protection work and public awareness campaign to show all that we only can truly appreciate and learn about wildlife by not keeping them in aquariums and zoos.



May 2009 - Wildlife Reports
Lifeforce has started our Marine Life Programs for 2009 and will provide monthly Wildlife Reports. We hope to show you the many wildlife encounters that we experience. This could range from the mammoth Gray Whales to the tiny, tiny hummingbirds. Our first report starts with two stories. The first appeared in the June All Point Bulletin that is a local Point Roberts/Richmond newspaper. "Wild at the Point" is a Lifeforce regular article and the "50% Less Protection for Orcas" is a special article that I wrote about the ongoing plight of orcas who are in desperate need for more protection.



Final 2008 Report
For the past six months Lifeforce conducted our Marine Life Program field work. This part of our programs has ended on Oct. 1st so this is the final report for 2008. Our work has helped educate people about nature's wonders who can be viewed living freely in the wild. There are no moral or educational reasons to imprison animals in zoos and aquariums. We can visit their habitats that are part of ecosystems that sustain people too.



October 3
The somewhat strained relationship between Parasitic Jaegers and Bonaparte's Gulls is a part of nature that many are not aware of and even more seldom view. In the Fall the Parasitic Jaegers pursues only Bonaparte's Gulls and Common Terns to steal food from them in mid-air . While breeding on tundra they feed on lemmings and small birds.



September 25
Come and take a land and boat trip with Lifeforce Founding Director Peter Hamilton as he shows you a diversity of wildlife living freely in their water world. We must stop imprisoning birds and other wildlife in zoos and aquariums. A walk in the woods or to the shore is a great way to exercise and to see wildlife. It can be family fun to turn your natural adventure into a computer-free game to record the most animal sightings. In addition to birds there are marine mammals – orcas, seals, sea lions, harbour porpoises, and much more.



September 19
On September 19th at 1400 I first saw the orcas just south of Active Pass. The three transients were outnumbered by about three to one by whale watch boats that "positioned" themselves all around them in hope that they will "pop up" for air by their boat. One operator later said that he likes to keep on one side so why didn't they?



September 14
At approx. 1620 Js, Ks and most Ls were in the middle of Georgia Strait heading North to the South and North Arms of the Fraser River. Other reports had some Ls at Monarch Head and Haro Strait. There was still a very high activity that is normally seen mostly when leaving Active Pass. There were multiple breaching, tail slaps and head viewing. At one point four orcas were all air borne. The activities decreased but were still active as they reached the other side and sped towards the river. There were a few stops for mating off Sturgeon Banks that may well help increase this endangered population.



August 22
For over three hours August 22 (1800 to 2100 pm) approximately 60 members of J pod and L pod stayed off Point Roberts. For nearly 2 hours there were eight orcas that socialized a few hundred yards off Lighthouse Marine Park. There were repeated breaches, double Head Views, tail slaps and much more.



August 21
Lifeforce has been actively photographing pleasure and commercial boaters that are harassing orcas. Numerous violations of whale watching guideline and legislation were reported to US and Canadian agencies in our campaign to prove that more enforcement is needed to protect endangered orcas. Our petition to Governor Gregoire has increased awareness of the problems and resulted in some WDFW enforcement off Point Roberts. During the BC Day Art and Music Festival in Point Roberts over 100 people signed our petition.



August 17
On Sunday August 17th there were approximately 20 Transients travelling between Active Pass (eight miles north) to Tumbo Island. This included T100s, T101s, T102s,T124s, T20, T90 and T90A (calf). The same travel patterns in the same locations were also recorded on Monday and Tuesday. This type of repeated transient travel patterns were also observed in 2007.



July 28
A group of seven transients were travelling in Washington waters from Rosario Strait to Point Roberts on July 28th. The waters were beautifully calm. Transients will eat other marine mammals unlike Residents who will eat only fish. Transients' diets include fish, porpoises and seals. They have even been seen attacking Gray whales and Minke whales. These are the "sea wolves".



July 3-7
The orcas headed back out into ocean and things were quite quiet in the waters. However there were numerous terrestrial wildlife viewing opportunities in Point Roberts, WA.



June 27-30
While the "resident" orcas took a trip out to the Pacific Ocean some Humpback Whales excited everyone visiting Lighthouse Marine Park, Point Roberts this weekend. From Saturday to Monday the Humpbacks spent a lot of time of our side of Georgia Straight. One great experience was watching one of the two repeatedly slap the massive tail flukes. Here are some of the photos taken as part of Lifeforce's Orca Trails Program promoting land base whale watching.



June 20-22
The weekend started out taking some photographs of newborn Barn Swallows and a House Finch on a nest with four eggs. Early Saturday morning there was a deer that was walking down the road.



June 6
Well the weekend was off to a fast start with orcas passing Point Roberts at 1207 Heading South. J pod was in small groups and spread out over a few miles. The last ones went past the park at 1250. Many of them, including J1 Ruffles were very close to shore most likely looking for food as J pod does. They were travelling for the most part but some heads could be seen as they moved along . At 1350 they were still approximately 2 miles off the Lilly Point reef marker. In the evening they were heading into Rosario Strait.



May 30
Thanks to Jim who called the Lifeforce Whale and Dolphin Hotline to report J pod heading South towards the Tsawassen Coal Port. At 1215 the orcas were off Point Roberts. Some Whale Watch Companies did not adhere to the Whale Watch Guidelines and did not give the orcas a ¼ mile shore passage zone as boaters are supposed to do off San Juan Island. Commercial boats blocked pathways and one operator even went approx. 100' off the shore in front of approaching orcas and between orcas and the shore.



May 23-26
The US Memorial Day long weekend was quiet for Lifeforce in regards to the orcas because they spent the days in waters around the San Juan Islands. They were too far south for the Lifewatch Boater Awareness Program and in those areas boaters are monitored by others such as the Washington Department of Fish and Wildlife.



May 20
The seas were very rough and the strong winds made it difficult to photograph behaviours but that didn't stop J pod from doing some socializing at 1740 on May 20 off Lighthouse Marine Park, Point Roberts, WA. They had headed North earlier in the day at 1245. I have often watched them forage at this deep spot off the Point but rarely have seen them stop to meet and play. Perhaps this was because there were no boats present.



May 15-19
The BC Victoria Day long weekend was full of interesting surprises with a Minke whale, Harbour porpoises. a barking sea lion and J pod (with some confusing activities). And there was even some deer walking down a Point Robert's road and later cutting through a yard with a No Trespassing sign – I guess they thought it meant humans.



May 12
On May 12th Lifeforce received a report to our Whale and Dolphin Hotline (604-649-5258) that approx. 20 orcas were in Georgia Straight heading south off the Fraser River, BC. We confirmed that it was J pod when they passed Lighthouse Marine Park, Point Roberts, WA at dusk.



May 10
On May 10th Lifeforce was out testing our new boat for our 2008 Lifewatch Boater Awareness Program. Our operator took this photo of J pod at 5PM in waters off the North Arm of the Fraser River, BC.