Lifeforce Animal Pals
Although it is impossible to completely fulfill the social and behavioral needs of primates in captivity, Lifeforce is dedicated to reducing their boredom and suffering by giving them behavioral toys until primates are no longer kept in captivity.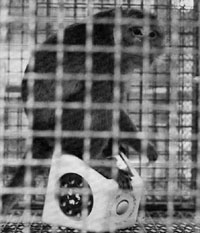 Lifeforce has encountered a lack of interest on the part of the scientific community to implement improvements for primates' well-being. Therefore we believe there is the need for "watch-dog" organizations to provide their expertise to represent the public concern.

Lifeforce extended our original Primate Pals project to include other species including rodents, rabbits, and swine. By extending the trials to research facilities conducting various types of research and which are located in different states and countries, the ecological validity of our findings will be more readily supported.



Download Enrichment Toys and Tools in Recent Trials Publication

Download Reducing the Suffering of Primates in Captivity Publication