Cancel The Cruel Con
posted on September 10, 2007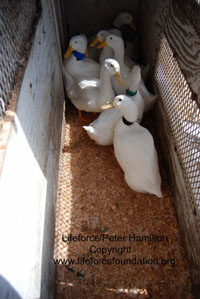 So what happened at the PNE Pig Races?: Click HERE to find out.

Update: Click HERE to read an important update on this issue.

The Lifeforce investigation of Richard's Racers (pig and duck "races") exposed numerous animal rights violations at the Abbotsford Agrifair and Rodeo from August 2 - 8. Lifeforce sent a letter to the Pacific National Exhibition (PNE), city officials and Safeway (a sponsor) in which we outlined our concerns and urged them to cancel this performing animal act.

Lifeforce investigation video being updated.