World Week For Animals In Research Laboratories!
posted on April 25, 2023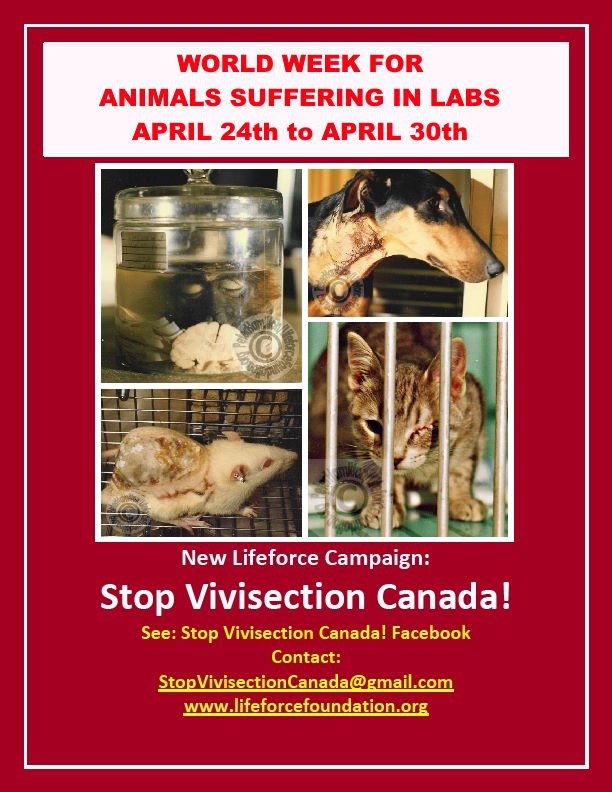 While the lucrative vivisection industries continue there has be some progress to end it. For the benefit of people and animals, we must support phasing out the inhumane, scientifically fallacious "animal models" of human maladies. There are major biological differences between and within humans and animals! That has prevented cures that could save lives! Time to stop it now for a better life for all life!

Some of the Great News:

1. Ending Cosmetic Testing on Animals
In Canada, the 2023 federal budget confirmed the government's commitment to banning cosmetic testing on animals. Numerous other countries have already stopped it!

2. No More Animals in Lung Experiments
Australian scientists grow replica human lungs and call for end to animal testing. Professor Wojciech Chrzanowski finds it "heartbreaking" to recall some of his early scientific work, where research involving animal testing was inevitable. He regretted "cutting up animals" and he said that you feel sorry for them. So he has found humane, more accurate non animals methods.
They have successfully grown replica human lungs in their laboratory at the University of Sydney Nano Institute. "Everyone told me it would never work', says the professor of nanomedicine, but science needs alternatives to experimenting on animals"

Learn All About the Lucrative Vivisection Industry

In 2010 Lifeforce produced "Vivisection 101" exposing the vivisection businesses. Posters include Better Living: Health Care and Research; Types of Animal Experiments; Pound Seizure Campaigns (researchers seizing impounded dogs); The Vivisection Industries; Harmful Results/False claims of medical successes; and Eco Friendly Non Animal Methodologies.

See "Vivisection 101" on the "Stop Vivisection Canada!".

Let's phase out all vivisection within 10 years! Stop Vivisection Canada!

Donations are greatly appreciated and can be made to Lifeforce either by mail to: Lifeforce Foundation, Box 3117, Vancouver, British Columbia, V6B 3X6 or "Support Us" at Lifeforce Lifeforce Web Site.