World Week To End Experiments On All Animals!
posted on April 18, 2022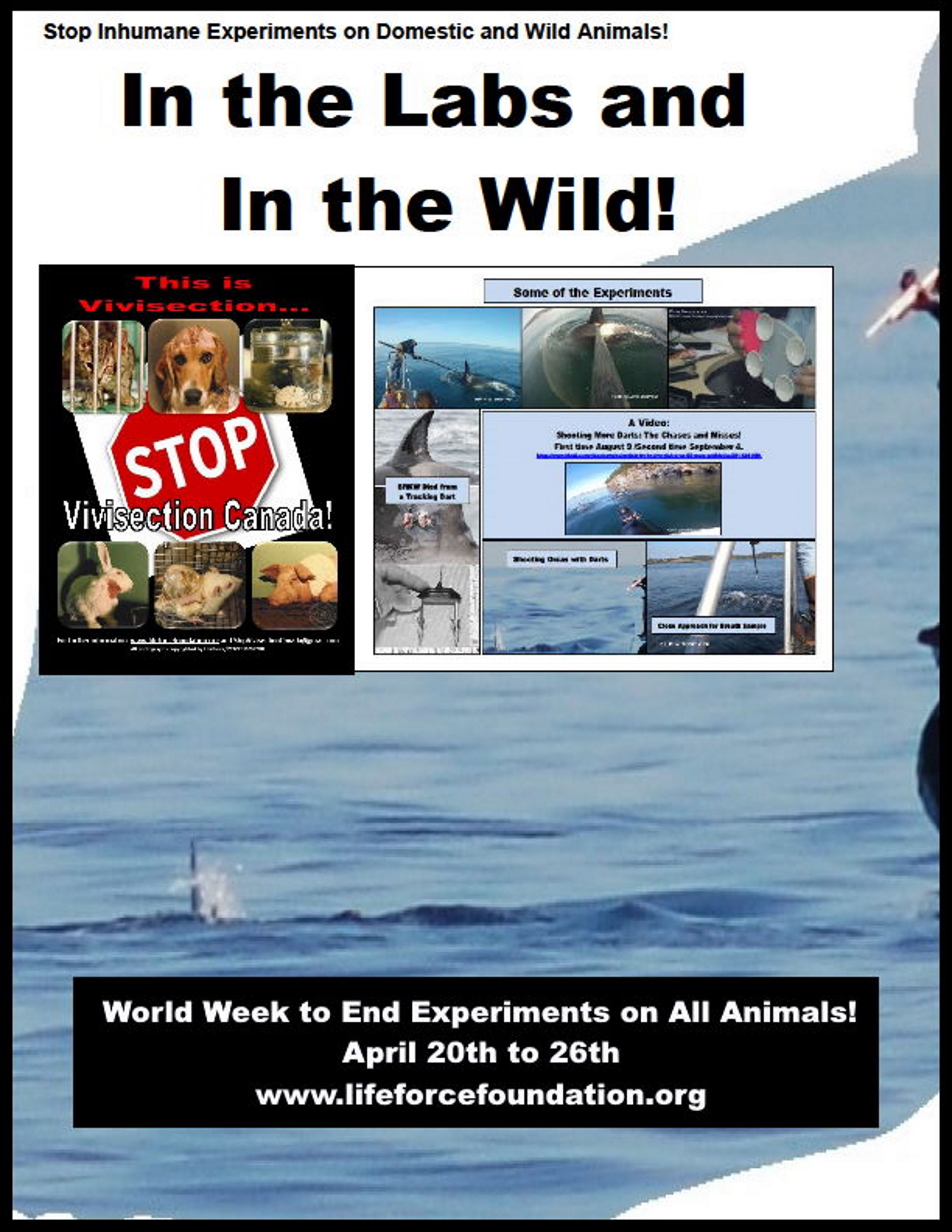 World Day for Animals in Laboratories is Sunday, April 24th with the surrounding World Week as April 20th to April 26th.

The Lifeforce Foundation is continuing to raise public awareness of the urgent need to shut down the industries' inhumane, scientifically fallacious experiments on domestic and wild animals. It can be achieved as a phase out period in less than 10 years. This can be compared to governments now mandating companies to end their life threatening environmental pollution. Tell your politicians to take actions to protect all life!

Read more about the vivisection businesses exploiting both domestic animals and wildlife on Stop Vivisection Canada! STOP VIVISECTION FACEBOOK.

Lifeforce was formed in 1981. Our Anniversary plans include a documentary and Animal Rights books. This will include the history of our exposure of animal experiments across Canada and the US. From ending Pound Seizure in California to stopping the Heart Foundations' experiments on wild caught baboons at the University of Western Ontario to exposing the spinal cord experiments on kittens and dogs at UCLA and UBC. A lot has been accomplished but a lot more has to be done!

Lifeforce Founder, Peter Hamilton, did ground breaking investigations over the decades. He created strategies to help define the new Animal Rights Movement. His investigations and campaigns were crucial in leading the way to help protect people, animals and ecosystems.

Lifeforce's upcoming documentary is tentatively titled "In Respect for All Life". Here is a short video as a reminder of a few of the many victories that Lifeforce has achieved. LIFEFORCE DOCUMENTARY.

You can help protect the rights of fellow sentient creatures with whom we share this planet. Peter's birthday is on April 26th so please also help him continue his lifesaving work by making a donation.

Donations for the Lifeforce documentary and projects can be made to Lifeforce Foundation either by mail to: Lifeforce Foundation, Box 3117, Vancouver, British Columbia, V6B 3X6 or through PayPal (Click on "Support Us" on the web site). Please use our printable donation form for all postal mail donations. DONATION FORM.

To save the future we must learn from the past so history does not repeat itself. We must raise public awareness of the ongoing need to end speciesism in order to finally bring Peace for All Life!