Herring And Humans In Harm!
posted on March 17, 2022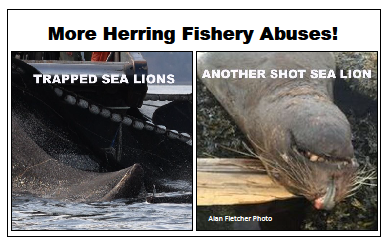 Did You Know?

There have been countless marine life polluters! In 2018 the herring fleet likely illegally dumped sewage that contaminated shell fish and over 150 people got sick from the norovirus (Probable cause as determined by BC Center for Disease Control). No fines were issued and DFO wrote a meager reminder to them of the regulations and to try to do better. NOROVIRUS SICKENS OVER 150 PEOPLE.

2022 DFO NOTICE : PUBLIC HEALTH AND AQUACULTURE: "Vessel Masters are reminded that there are numerous clam and oyster leases in Baynes Sound. Disposal of human waste into waters near shellfish harvest areas creates potentially serious health risks for shellfish consumers. The discharge of untreated sewage into all Canadian inland waters and Canadian coastal waters within 3 nautical miles of land is banned under the Canada Shipping Act. Vessels participating in the herring fishery are required to abide by sewage discharge regulations and are requested to minimize impact to aquaculture sites by utilizing marinas, anchoring in existing sanitary closures and minimizing congregations of vessels near shellfish aquaculture sites as much as possible."

Let's Have the Truth!: No More Crap! End Marine Pollution!

Stop Treating Ecosystems as Sewage Dumps!

The sewage dumping and leaching into water ways and oceans continues to impact countless marine lives in the now broken ocean food chain along the BC Coastline and beyond.

It is time to end quick, cheaper temporary fixes seen with the dumping raw sewage off Victoria in the home of the orcas now driven to the point of extinction; the Comox Valley sewage dumping 300 meters off Cape Lazo in whale habitat; the leaking sewage pipes along Point Holmes harming streams and Baynes Sound; after over 30 years the Courtenay-Comox Sewage Commission delaying a raw sewage "odour" improvement for a cheaper plan and in 2018  the B.C. Ministry of Environment issued the Village of Cumberland another non-compliance notice for its sewage treatment issues but later included a referral for an administrative penalty.

Please Sign and Share: CUT THE CRAP! PETITION. 

If You Can Please Help Fund Lifeforce 40th Anniversary Projects. Donations can be made to Lifeforce Foundation either by mail to: Lifeforce Foundation, Box 3117, Vancouver, British Columbia, V6B 3X6 or through PayPal (Click on "Support Us" on the web site). Please use our printable donation form for all mail in  donations. PLEASE DONATE.

                                           Thank You!