Leave The Seal Pups Alone!
posted on August 16, 2019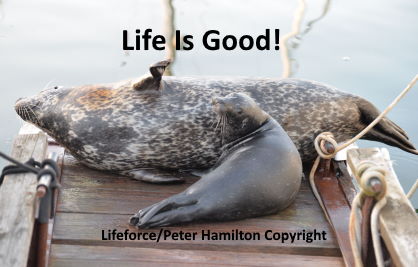 Harbour seals are ubiquitous in coastal waters of British Columbia, and utilize over a thousand haul out sites to rest, moultand give birth. The birth season varies regionally, with most pups being born between mid-May and early-July in northern B.C., and between early-July and late-August in southern B.C.

It is very important to Do Not Disturb! Harbor seal pups need time ashore! Mother seals will not return if people and dogs are nearby. The best thing to do is to leave the animal alone. Stay at least 100 yards away. Monitor for 24 to 48 hours. Do not feed, attempt to remove, or pour water on animals that are hauled out. Call immediately if the pup is wounded.

Some Moms may choose public areas such as boat docks. They are less leery of people. As shown in the photo taken by Peter Hamilton of Lifeforce Ocean Friends, this mom and her pup are finding life quite comfortable. Not so much for the human who has to moor the boat. They leave when he arrives to the boat but slow tomove when returning. That is part of enjoying nature!

Federal marine mammal regulations prohibit harassing seals on shore in order to stop human disturbances. To report injured wildlife and violations call immediately: BC - 1-800-465-4336.For further information: Lifeforce Ocean Friends lifeforcesociety@gmail.com

Did You Know?
1. Pups taken to Vancouver Aquarium (VA) may be subjected to experiments and/or sent to other aquariums/zoo . VA say captives and rescues are "untapped resources" to be used as tools for lucrative grants. The UBC Marine Mammal Lab and the VA have used the 22 wild caught sea lions and 6 Fur seals for both "entertainment" and questionable experiments!
2. Attaching satellite devices, that could interfere with their lifestyles and survival, are glued to the seal's skulls. In 2016 a UBC researcher admitted that they found that even small attachment leads to 15% more energy requirements in captive experiments at VA.
3. The VA keeps blind seals. One was sent to another aquarium and drowned when caught in the drain pipe. What a poor quality of life with humans.
4. Years ago the VA misinformed the public by saying that seal moms won't nurse a pup if touched by humans. Hundreds of moms and pups were then needlessly separated.
5. In 2015 UBC Marine Mammal Research Unit, VA, and others captured 20 Harbour seals to look at salmon fry predation. The seals were subjected to the attachment of large instrument packs on their heads and backs. It was stated that the information gathered could lead to a West Coast seal hunt.