Re: Canadian Cetacean Ban Will Perpetuate Captivity
posted on June 10, 2019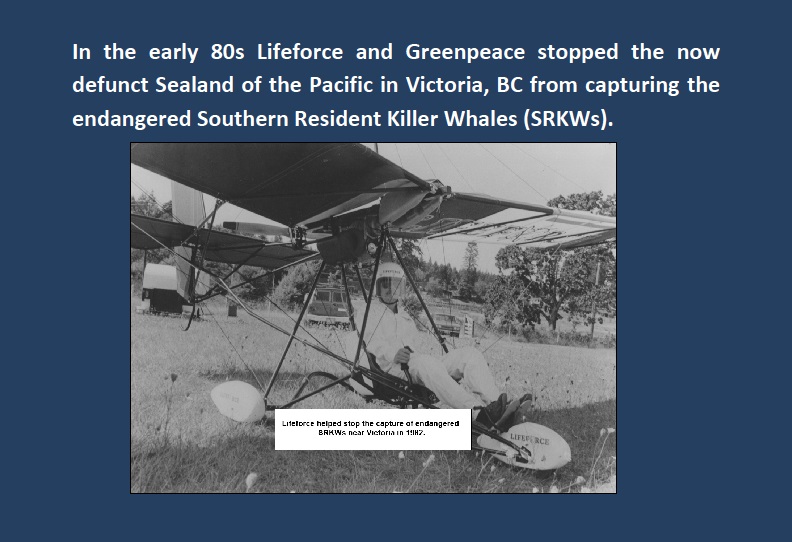 June 10, 2019
News Release

"Canada's enactment of a ban on the captivity of whales and dolphins proves that there is nationwide opposition to cruel captures and imprisonment. Although it is gratifying to have this support, the Bill "permits legitimate research and the rescue of animals in distress". This will perpetuate inhumane captivity and experiments", stated Peter Hamilton, Lifeforce Founder, "Why is so-called "legitimate research" allowed? It is a bias peer review, publish or perish research industry! Lifeforce has fought against this exemption! It is a violation of Cetacean Rights!"

This bill may even help the Vancouver Aquarium (VA) and other industries plans to get lucrative grants to use captives and "rescues" as "untapped resources" treated as experimental "tools"! This was stated at a 2007 conference held at the VA. The meeting included the US Navy. They actually agreed with many issues by those opposed to captive experiments with marine mammals. They discussed the major differences between captives and those living in the wild.

Hamilton further states, "The aquarium industry knows that cetacean captivity is not supported so they are trying to rebrand it as saving "rescued" cetaceans for "conservation" experiments. For decades the wildlife that aquariums and zoos claimed cannot be returned to wild has been a free worldwide animal market.

The VA states that they will fight to keep "rescues" at the aquarium for any long term "care" and experiments until whenever they may find another aquarium. But they do not include more humane options such as sea pens. Sadly, this could include orcas, belugas, False killer whales, porpoises and other dolphin species.

In addition, a noisy public aquarium is not suitable for any treatment and recovery. They are subjected to more human disturbances even during the many events and parties in the evenings. That is why true wildlife rescue includes "hospital peace and quiet" during rehabilitation."

Many cetaceans die in the wild. It is common practice for wildlife rescue organization to euthanize unrealisable wildlife. If people are against capturing and imprisoning wild cetaceans then they should also be against keeping them imprisoned for experiments! The suffering of a dolphin captured from the wild is the same as dolphins "rescued" from the wild! We must not justify saving "rescues" for them to suffer in captivity. (Note: Many of the "rescued" seals do die every year at the VA centre.)

If a cetacean is being considered to be "rescued" then there must be 1. A Cetacean Rights Review Committee, including animal protection organizations, to decide humane actions. 2. Any rehabilitation for release must be done in sea pens.

The Canadian Cetacean Ban is a major step forward! Unfortunately, the battle to end the captivity of cetaceans will continue! All Cetacean Captivity Must End!

For further information: lifeforcesociety@gmail.com

History

Since the 80s: Lifeforce has fought against captures and captivity across Canada. Including, Sealand of the Pacific in Victoria with their holding module lockup to all cetacean expansions at the Vancouver Aquarium (in 1984, 1988-90, and the last ongoing expansion in 2006) to Churchill Manitoba in 1990 that exposed the abusive captures of 3 belugas and stopped international captures and exports

1982: Lifeforce and Greenpeace stopped the capture of Southern Resident Killer Whales (SRKWs) by the Sealand of the Pacific in Victoria, BC.

1996 and 2017: Fought for a Vancouver Park Board Cetacean Ban Bylaw in 1996 and the improved one in 2017.