Re: Enact Emergency Orders Now To Save The Whales!
posted on November 29, 2018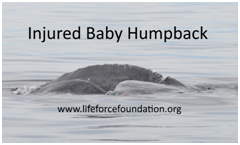 November 28, 2018
Updated November 29th

News Release

Re: Enact Emergency Orders Now to Save the Whales!

Now there has been another death of an endangered "Transient" mammal eating orca and a young Humpback. The orca is believed to have died within a week from yet to be determined cause(s) while it appears the Humpback died from a catastrophic vessel strike! The orca was found on November 14th and the Humpback on November 16th.

The Canada-based ecology organization, Lifeforce, has been recommending in our petition that there must be an Emergency Order under the Species at Risk Act that includes increasing boat distances, education and enforcement to protect all orcas. Save the Orca Families Now!
PETITION TO SAVE THE ORCAS!

Since the increased presence of Humpback whales in the Salish Sea there have been increased injuries and deaths. Threats have included serious injuries from entanglement in fishing gear to boat collisions. A lone young one, "Ocular", was found just off Comox, BC in July. Injuries included a severe cut exposing the spinal cord.

In addition, DFO researcher Jared Towers documented another Transient T002B2 as a neonate in September and then saw her mom again a few days later without her baby.

"Actions must be taken to reduce the injuries and deaths to cetaceans as well as the harm to boaters. Moratoriums on fishing must be implemented to rebuild the broken ocean food chain. In addition, if the Oil and LNG Industries are permitted to expand then the increased tanker traffic will cause more whale deaths and irreversible damages to fragile marine habitats", stated Peter Hamilton, Lifeforce, "A Green Economy and Future must be everyone's focus now. If not, it may well be too late to stop the imminent threats to all life!"

From the Lifeforce report "It is Black and White: No More Compromises! Keep the SRKWs Alive!":

Background
Marine Mammal Regulations have recognized that public boaters cannot determine the difference between Southern Residents, Northern Residents and Transients. Boat distances and other protection measures applied to all. Therefore, further restrictions must apply to other orca ecotypes.

Other ecotypes are threatened by the same main impacts on the SRKWs. They Are Not Thriving! As claimed by whale watch companies and others. NRKWs are estimated at only 309 members. Between 1998 and 2001 there was a decline due to the lack of salmon. There are only approximately 300 Mammal Eating Transients from California to Alaska.

Alarm Bells should be heard and quick responses taken if a population declines below 1000 members. Lifeforce raised the question in the 90s that if we are fighting to protect at that time the 500 belugas in the St. Lawrence and 300 Right Whales on the East Coast why are we not doing anything for the orcas? Now the present 800 belugas and 500 Right Whales have increased protection in Canada. So include the all orca ecotypes!

Full protection is necessary especially in view of the plight of A pod and their boat injuries (3 severe hits in one family alone!). Food for both the NRKWs and the Mammal Eating Transients are also highly polluted with mercury, PCBs and many other toxins. This is certainly a probable deadly impact on their future survival as well.

Protective measures for all should start now!

-30-

Further information: lifeforcesociety@gmail.com


DFO Report: DFO NECROPSY INFORMATION.