A Chance For Survival!
posted on May 25, 2018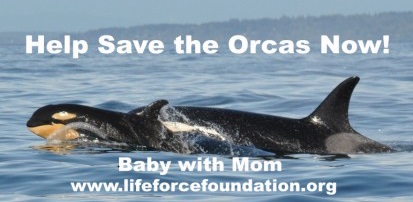 On May 24th the Minister of Fisheries and Oceans Dominic LeBlanc and Minister of Environment and Climate Change Catherine McKenna stated that the Southern Residents, face "imminent risks" to their recovery and they will close several fisheries in key whale foraging areas.
This is a major breakthrough to protect the endangered Southern Resident Killer Whales and others who are facing extinction.
The Ministers should recommend an Emergency Order under the Species at Risk Act, because they are "of the opinion that the species faces imminent threats to its survival or recovery." This is what Lifeforce and nearly 135,000 people who signed the petition have asked them to do! SAVE ORCAS AND OCEANS PETITION.
This is great news but the battle continues! Please continue to share this petition. Lifeforce will keep you updated. The orcas may now have a chance at survival!