No More Dolphins! No More Parkland! No More Aquarium Legal Challenges To Cetacean Ban!
posted on November 24, 2017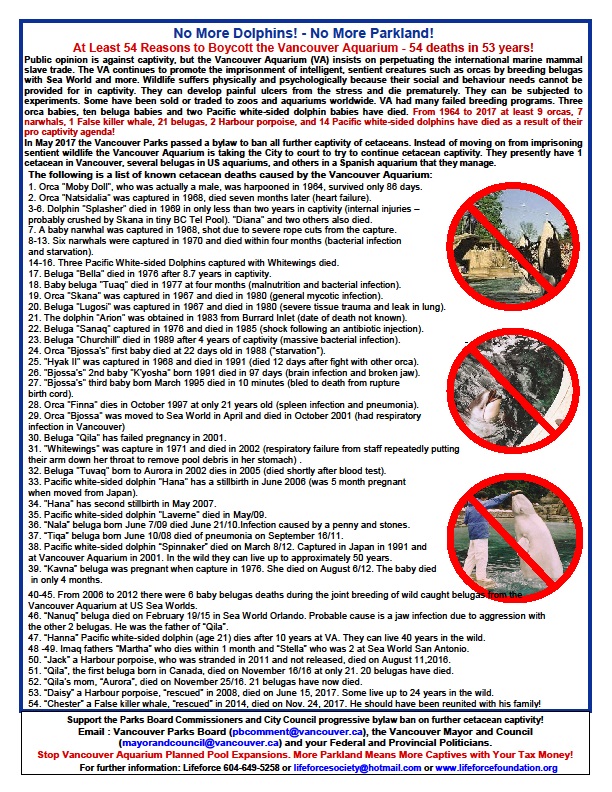 At Least 54 Reasons to Boycott the Vancouver Aquarium - 54 deaths in 53 years! "Chester" a False killer whale
died today.

In 2014 Lifeforce proposed to DFO's Paul Cottrell to give the baby FKW a chance at freedom by locating the family pod that was obviously nearby the beaching. We asked about getting a tape of the baby's vocalization and playing the vocalization in various areas to attract the pod. We also contacted several whale watch companies and others in the area to report any sightings.
Peter Hamilton, Lifeforce Founder and who has been part of Canadian and US Rescue Networks stated, "Was the VA using this baby to try to stop the support of phasing out cetaceans in captivity at the Vancouver Aquarium? The fact is that not all survive and trying to "rescue" wildlife to perpetuate captivity is inhumane."

Contrary to VA "rare to sight and research needed" claims when captured, FKWs populations have been extensively studied for decades and have been listed as species seen in BC by DFO and the Vancouver Aquarium. From 1992 to 2003 one lived in local Vancouver waters from Horseshoe Bay to Point Roberts.

Public opinion is against captivity, but the Vancouver Aquarium (VA) insists on perpetuating the international marine mammal slave trade. The VA continues to promote the imprisonment of intelligent, sentient creatures such as orcas by breeding belugas with Sea World and more. Wildlife suffers physically and psychologically because their social and behaviour needs cannot be provided for in captivity. They can develop painful ulcers from the stress and die prematurely. They can be subjected to experiments. Some have been sold or traded to zoos and aquariums worldwide. VA had many failed breeding programs. Three orca babies, ten beluga babies and two Pacific white-sided dolphin babies have died. From 1964 to 2017 at least 9 orcas, 7 narwhals, 1 False killer whale, 21 belugas, 2 Harbour porpoise, and 14 Pacific white-sided dolphins have died as a result of their pro captivity agenda!

In May 2017 the Vancouver Parks passed a bylaw to ban all further captivity of cetaceans. Instead of moving on from imprisoning sentient wildlife the Vancouver Aquarium is taking the City to court to try to continue cetacean captivity. They presently have 1 cetacean in Vancouver, several belugas in US aquariums, and others in a Spanish aquarium that they manage.

Further information: Lone False Killer in Vancouver Waters for 10 Years
False killer whale Freedom.
Chester Dies.