Another Unnecessary Beluga Death
posted on November 17, 2016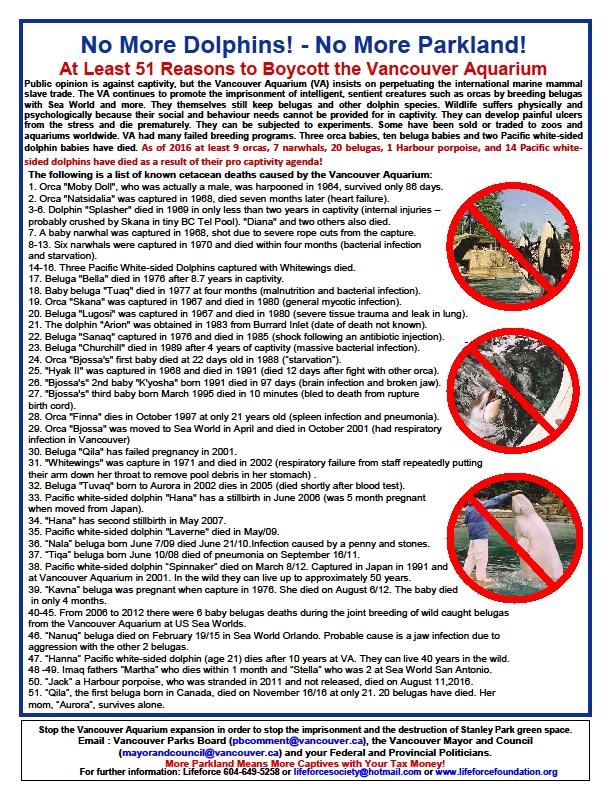 "Qila" is the 51st cetacean who has died as a result of the Vancouver Aquarium cetacean slave trade in nearly as many years. At least 9 orcas, 7 narwhals, 20 belugas, 1 Harbour porpoise, and 14 Pacific white-sided dolphins have died! No orca babies survived and belugas also died at a very young age. Qila had a failed pregnancy in 2001 and her 3 year old died in 2011. Her mom , "Aurora", lost another 3 year old in 2005. Aurora was one of four captured in 1990 in Manitoba. (The other three were sent to Sea Worlds for breeding. In 2015 Nanuq, father of Qila, died from a fractured jaw during a fight with other belugas.)
History proves that experiments on captives are not necessary. There is a lucrative research industry mainly funded by public taxes under the guise of conservation. For example, beluga diets and mother/calf communication have been studied for decades in field studies. Any claims that experiments on captives are part of the greater "puzzle" does not clarify that it is often done to verify studies already conducted in the wild. Further, it still must be validated or not by comparing it to the true eco puzzle in the wild. It is already known that major threats include the decimation of fish populations, pollution, and disturbances from boats and military tests.
Researchers have even experimented with rats to find comparisons to captive sea lion experiments. (Note: For example, 22 sea lions were taken from their moms in the wild when 2 weeks old and 6 fur seals were captured for laboratory studies. The laboratory experiments include locking them in metabolic chambers and restraint devices. They are also used for circus tricks at the Vancouver Aquarium.)
The aquarium industry makes the unscientific claims that belugas and others are happy in cement prisons. However, the captives exhibit abnormal stereotypical, neurotic behaviours. The psychological and physical necessities of cetaceans cannot be provided for in these prisons. It is time to end the suffering!

Urge the City and Parks Board to Stop the Imprisonment Now!
Support true non profit organizations that have educated the public about the cruelty of captivity and the natural lives of wildlife living freely. We must spend scarce time and funds on protecting natural ecosystems - sanctuaries for all life.
Email : Vancouver Parks Board (pbcomment@vancouver.ca), the Vancouver Mayor and Council
(mayorandcouncil@vancouver.ca) and your Federal and Provincial Politicians.
More Parkland Means More Captives With Your Tax Money!
Stop the Vancouver Aquarium expansion in order to stop the imprisonment and the destruction of Stanley Park green space. More Pools Means More Captives!