Shame On Oak Bay's Deer Kill!
posted on March 30, 2015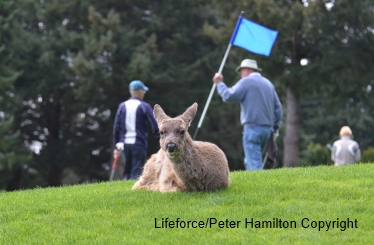 Shame on Oak Bay for killing 11 deer this March. They appeared to be more concern with finding a way to kill innocent wildlife without public detection than resolving any human and wildlife conflicts.
Oak Bay golfers who want to kill the deer should learn from Comox golfers who have no conflicts with the deer there.
You can take action by Boycotting Oak Bay that is near Victoria, BC.
http://www.oakbaynews.com/news/295769931.html

BACKGROUND

Help Stop the Killing Permit! There should be Peace On Earth for these gifts of nature.Please read the Poster.

You can also email the Mayor and Council in Oak Bay (Part of the Capital Regional District)
obcouncil@oakbay.ca;oakbaymayor@oakbay.ca;pcopley@telus.net;oakbay@cairinegreen.ca;jherbert@telus.net;michelle@michellekirby.ca;kevin@kevinmurdoch.ca;taraney@shaw.ca;

Please Support Peace on Earth for these "Gifts of Nature" with whom we are blessed with.
Oak Bay plans to kill 25 deer. This would be the beginning of a never ending slaughter. They are one of 13 municipalities in the Capital Regional District (CRD) on Southern Vancouver Island. We must also protect the Capital Resident Deer too!
There will always be "resident" wildlife because overpopulated humans continue to encroach upon their habitats. We must use nonlethal, humane solutions to live in harmony.
Read more at: Boycott BC Deer Kills.

UPDATE
We updated our Boycott petition. This also includes previous plans by Central Saanich. Please go to Boycott BC Deer Kills to sign and share.