Lifeforce Annual Report 2013
posted on November 30, 2013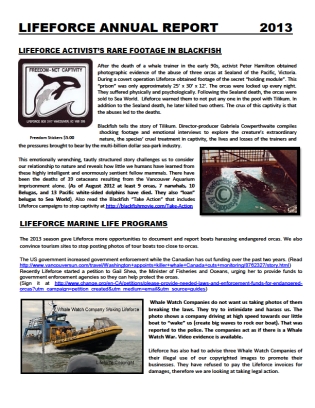 Dear Friends:

The Lifeforce projects this year have been very successful. From stopping the exploitation of raptors in an opera to getting our orca investigation video in the popular Blackfish movie, our message to protect all life has been very far reaching.

Send us an email to receive a PDF copy of the Lifeforce Annual Report 2013 so you can read more about Lifeforce's important work.

I hope you will want to help us with your valued financial support.

Peace For All Life,

Peter Hamilton

Lifeforce Founding Director
(604)649-5258
lifeforcesociety@hotmail.com
www.lifeforcefoundation.org

How You Can Help Now!
Freedom Not Captivity Stickers
Weather Proof/$5.00 including postage/4.5"x4.25"
Buy Them to Protect Orcas!

Enjoy Nature and Protect Life!
Please buy one of the hundreds of incredible photographs by Lifeforce's Founder Peter Hamilton.
Many more can seen on our website at Wildpeace Wildpeace.
Nature Moments videos are on our Lifeforce ECO TV Nature Moments.
Here you can find other merchandise that you can purchase to help continue the Lifeforce campaigns. Lifeforce Store.