Lifeforce Activist's Rare Footage In Blackfish Movie
posted on October 22, 2013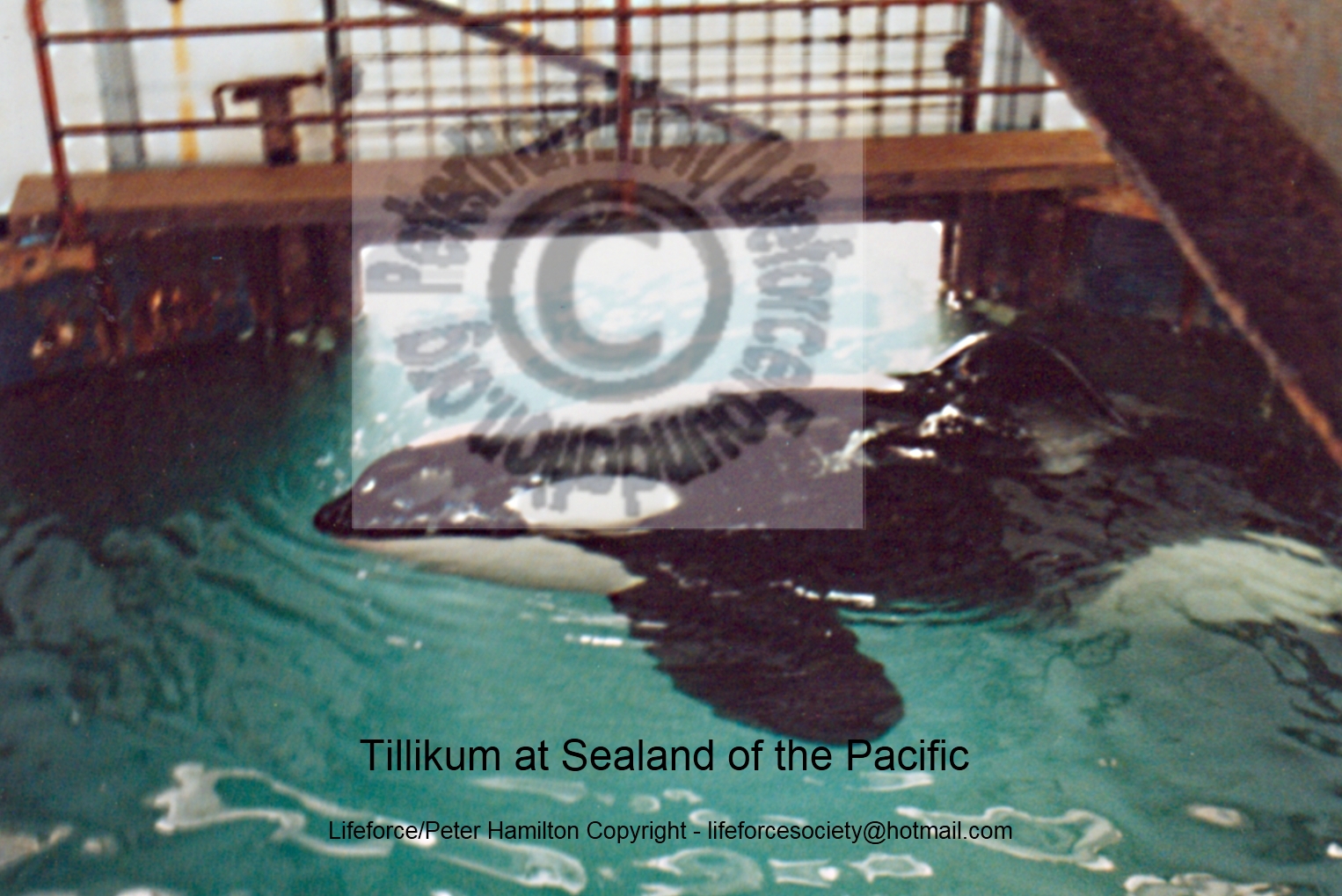 After the death of a whale trainer in the early 90s, activist Peter Hamilton obtained photographic evidence of the abuse of three orcas at Sealand of the Pacific, Victoria. During a covert operation Lifeforce obtained footage of the secret "holding module". This "prison" was only approximately 25' x 30' x 12'. The orcas were locked up every night. They suffered physically and psychologically. Following the Sealand trainer death, the orcas were sold to Sea World. Lifeforce warn them to not put any one in the pool with Tilikum. He later killed two others. The crux of this captivity issue is that the imprisonment at Sealand led to the deaths.

Blackfish tells the story of Tilikum. Director-producer Gabriela Cowperthwaite compiles shocking footage and emotional interviews to explore the creature's extraordinary nature, the species' cruel treatment in captivity, the lives and losses of the trainers and the pressures brought to bear by the multi-billion dollar sea-park industry.

This emotionally wrenching, tautly structured story challenges us to consider our relationship to nature and reveals how little we humans have learned from these highly intelligent and enormously sentient fellow mammals. There has been the deaths of at least 39 cetaceans resulting from the Vancouver Aquarium imprisonment alone. (As of August 2012 at least 9 orcas, 7 narwhals, 10 Belugas, and 13 Pacific white-sided dolphins have died. They also "loan" belugas to Sea World).

Read the Blackfish "Take Action" that includes Lifeforce campaigns to stop captivity at Take Action.

The movie will air on CNN on October 24th at 6 PM and 9 PM Pacific Time. Check your local tv schedule for other dates.

For further information: lifeforcesociety@hotmail.com

UPDATE DECEMBER 2013
Willie Nelson Cancels Sea World Concert Due to Cruelty!
First Barenaked Ladies cancelled and now Willie Nelson.
Let's hope that Tilikum, Lolita, Morgan, and others will be "On the Road
Again" (Willie's song) to Freedom!
Willie Nelson Boycotts Aquariums and Zoos.

SeaWorld concert: Heart drops out after Barenaked Ladies, Willie Nelson ditch Orlando festival
Sorry, classic rockers. Nancy Wilson and sister Ann will not be going crazy in Orlando.
At least, not at the 2014 edition of SeaWorld Orlando's Bands, Brew & BBQ Festival set to begin Feb. 1.
Heart on Saturday became the third act to bow out of the festival amid online pressure prompted by the documentary "Blackfish," which is critical of the park's treatment of killer whales.
Country singer Willie Nelson canceled Thursday.
Barenaked Ladies announced last week that it had scrubbed its appearance because of the "Blackfish" controversy.
"While we're disappointed a small group of misinformed individuals was able to deny fans what would have been a great concert by Heart at SeaWorld, we respect the band's decision," Nick Gollattscheck, SeaWorld Orlando's director of public relations said in a statement.
"The band and artists have a standing invitation to visit any of our parks to see for firsthand or to speak to any of our animal experts to learn for themselves how we care for animals and how little truth there is to the allegations made by animal extremist groups opposed to the zoological display of marine mammals," he added.
Other acts scheduled to come to SeaWorld include Cheap Trick, REO Speedwagon, Justin Moore, Scotty McCreery, Martina McBride and 38 Special.
Heart wasn't on the original list of performers. But the band's departure was significant enough for Change.org to release a statement Saturday,
One of the band's signature songs is "Crazy on You," which became Heart's first commercial hit in 1976
Change.org's statement said: "Heart guitarist Nancy Wilson confirmed that the band had canceled their SeaWorld performance on Twitter earlier today."
The tweet didn't specifically mention the "Blackfish" controversy.
"The Sea World show was planned long ago as an Orlando show,'' the tweet said. "Had we known, we'd have said no then. We said no today. Love you all."
The petition was launched by Heart fan Shani Roushar of Pembroke Pines in South Florida.
"Roushar was inspired by recent Change.org petitions that successfully pressured both the Barenaked Ladies and Willie Nelson to drop their February performances at SeaWorld Orlando,'' Change.org said.
Shani is quoted as saying she appreciated Heart's "compassionate decision to say no to SeaWorld animal cruelty."
Change.org said Nelson in an interview on CNN on Friday corrected SeaWorld's claim that his show had been cancelled "due to scheduling conflicts."
"I understand there are petitions going around with thousands of people's names on it, so I had to cancel. Also, I don't agree with the way they treat their animals. It wasn't that hard a deal for me," Nelson is quoted as saying.
By Kevin P. Connolly, Orlando Sentinel
6:04 p.m. EST, December 7, 2013
Copyright © 2013, Orlando Sentinel

Joan Jett's objection to SeaWorld playing her music, without permission, at the orca show...
Joan Jett Tells SeaWorld to Stop Using Her Music.

The Vancouver Aquarium continues to have numerous party rentals every year.

December 10:
Vancouver Aquarium must stop forcing their captives to do cheap circus tricks!

Cheap Trick is 4th act to cancel SeaWorld performance
Orlando Sentinel staff
11:45 p.m. EST, December 10, 2013
A fourth band scheduled to perform at SeaWorld Orlando's Bands, Brews & BBQ Festival in 2014 has dropped out of the lineup, a theme park official has confirmed.
Cheap Trick, scheduled to perform Feb. 8, has followed Barenaked Ladies, Willie Nelson and Heart in canceling their festival concerts, say Fred Jacobs, SeaWorld's vice president for communcation. The event is scheduled to run on weekends from Feb. 1 to March 9.
Although the three other acts said they bowed out amid online pressure prompted by the documentary "Blackfish," which is critical of the park's treatment of killer whales, Cheap Trick has not officially explained the cancellation. A representative at Cheap Trick's management company, Vector Management, told WKMG-Channel 6 that she did not immediately know the reason for the show's cancellation.
Artists have been under public pressure, particularly from petitions on the website Change.org. People there have officially called on announced Bands, Brew & BBQ acts Scotty McCreery, REO Speedwagon, and Justin Moore to not appear at the theme park. There's a petition aimed at Trisha Yearwood, who was not listed by SeaWorld originally but has a SeaWorld concert posted on her site for Feb. 22.

December 12
This growing musicians' protest reminds me of the many musicians who helped
build the Peace Movement. Hopefully now the Blackfish Dolphin Peace
Movement.

TRISHA YEARWOOD
PULLS OUT OF SEAWORLD GIG
Trisha Yearwood is the 5th Musician to Say No to SeaWorld.