Re: Blackfish Movie Shows Exclusive Lifeforce Footage Of Tilikum
posted on July 24, 2013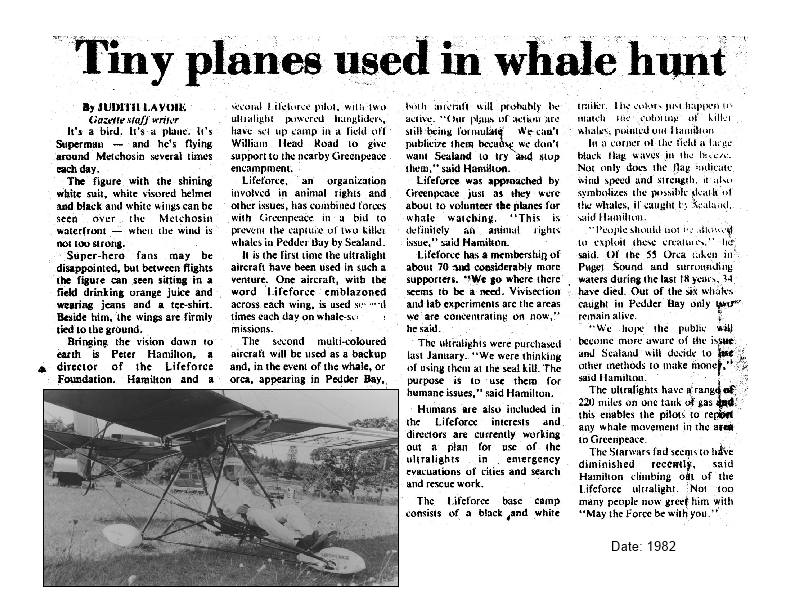 News Release

In the early 90s the Vancouver based ecology organization, Lifeforce, investigated the inhume imprisonment of a male orca and two females at Sealand of the Pacific, Victoria, BC. A "holding module" was used to keep the three orcas contained overnight. Few have seen inside. This rare Lifeforce footage has been used in the Blackfish movie.

Lifeforce Founder, Peter Hamilton, had stated that this cruel imprisonment resulted in physical and psychology abuses that made them dangerously aggressive. Lifeforce advised Sea World to not put anyone in the water with Tilikum.

During the investigation of the death at Sea World Florida was contacted by OSHA (US Occupational Safety and Health Administration). Lifeforce provided letters etc. proving that Sea World was fully aware of the dangers.

"It is great to see the Blackfish movie expose the cruelties resulting from keeping orcas in captivity, stated Peter Hamilton, Founder of Lifeforce, The Vancouver Aquarium started the orca slave trade in 1964 after their harpooned orcas survived and attracted crowds. In BC and WA, 68 were captured and at least 13 others died during captures. In spite of capture bans in North America, Sea Worlds, Marineland in Ontario, and others shamefully continue to capture orcas and other dolphins in other countries. The public can boycott aquariums to stop this slave trade."

Background: "Tilikum: A Time for Change"

As with other orcas and dolphins imprisoned in aquarium tanks there is an extreme history of physical and psychological abuse. In this case, during evenings Tilikum and two females were lock up in a steel pen called the "holding module". It measured only approximately 25' x 30' . And it was only 12' deep.

Nootka IV was sent to SeaWorld Florida. She died after 12 years of captivity. Haida and son Ky were sent to SeaWorld Texas. Haida died after 19 years of captivity. In the wild, females can live over 90 years.

There have been many injuries at SeaWorlds and other aquariums - some very serious. Many are not made public and settled out out of court. In 2004 Tillikum's son Ky attacked a trainer.

Lifeforce called for an inquest into the Sea World Florida death. An inquest was conducted with the Sealand death. This was not done but the US government sued over safety issues and won. Lifeforce provided evidence to the government that proved that SeaWorld was fully aware of the first death. In 1991 Lifeforce advised them to stop putting trainers in the pools.

Watch: Lifeforce's Tillikum: A Time for Change.

For further information: Peter Hamilton lifeforcesociety@hotmail.com

September 2013 Update

The film "Blackfish" exposes much of the plight of orcas in captivity. Here is some more history about the orca captures:

In 1982 Greenpeace and Lifeforce took direct action to stop Sealand of the Pacific, Victoria from capturing the SRKWs at Peddar Bay, BC. Lifeforce took to the air in ultralights to give GP boats scouting info to keep the orcas out of the bay. Sealand gave up but later brought in orcas from Iceland. That included Tilikum. This was the last attempt to capture orcas in Canada.

In addition, the Sealand cruel plan that was stopped was to "rotate" SRKWs orcas by capturing a few, keep them for 4 to 5 years, then release them and capture replacements. It would have gone on and on splitting up families and killing more during captures.
Also, the exclusive Lifeforce footage of the Sealand "holding module" at Sealand is in the film Blackfish. Three orcas were confined every night in an approx. 25' x 30' pool. This was both psychological and physical abuse.

Let's hope that the dolphin slave trade will end!