Lack Of Cash Leaves Guardians Of Killer Whales Tied To Shore
posted on April 20, 2013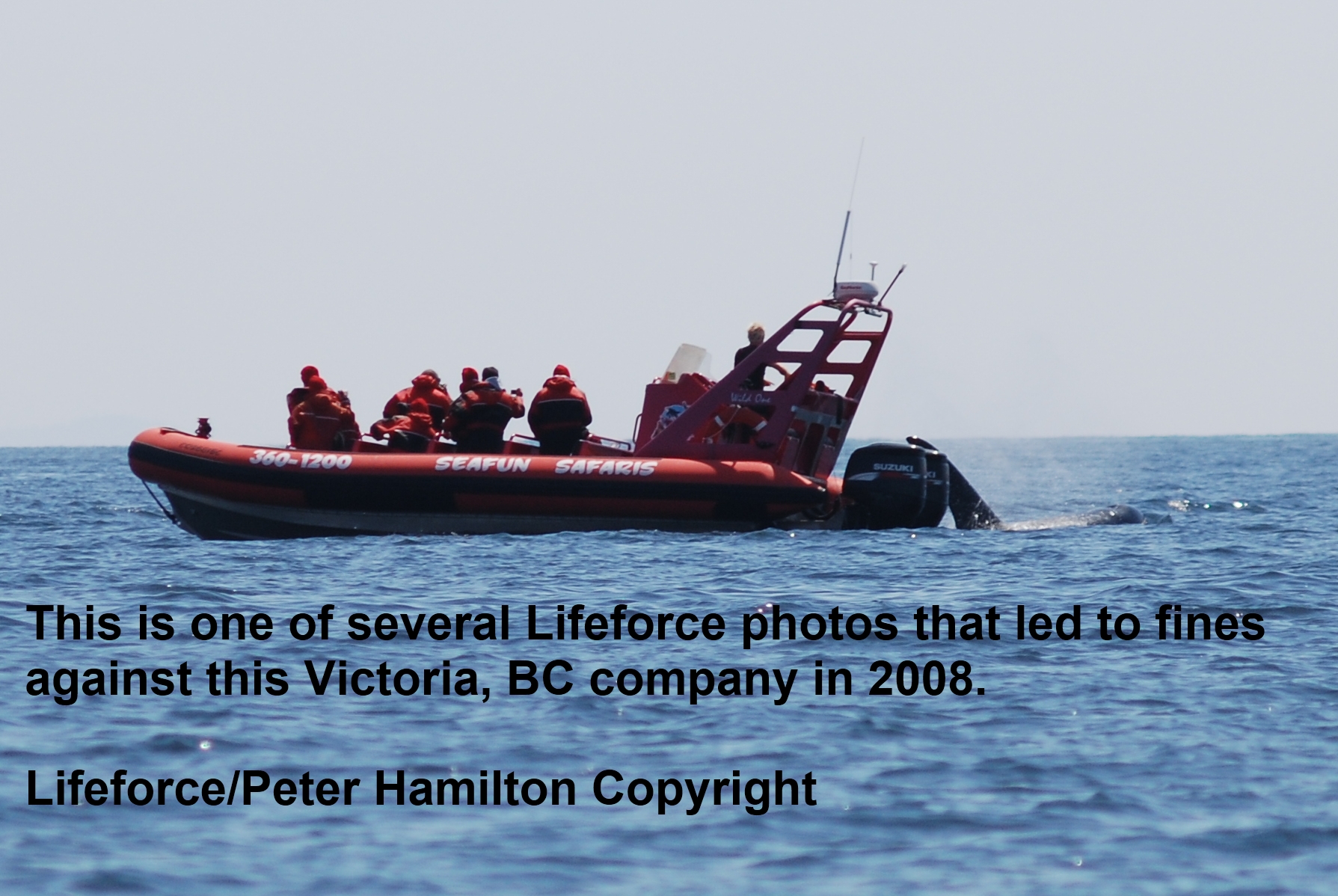 Vancouver Sun, Feb 19
Lack of cash leaves guardians of killer whales tied to shore.

Whale Watch Wars
Since the early 90s the ecology organization, Lifeforce, has been monitoring boat traffic watching endangered orcas in waters off Southern British Columbia and Washington. Our photos have led to fines. Our work is not so peaceful out on the water.
Photos and videos expose the harassment and risks that some whale watch companies subject Lifeforce volunteers to. They do not attack other monitoring organizations.
More information coming soon.


Please mail your donations or use the convenient PayPal at
Make a Lifeforce Donation.

For Freedom,

Peter Hamilton
Lifeforce Founding Director
(604)649-5258
lifeforcesociety@hotmail.com
www.lifeforcefoundation.org

May 1 Update
Whale Watch Wars

Lifeforce is reporting this important issue to expose how whale watch companies have been getting away with harassing orcas and Lifeforce that is trying to protect marine wildlife. The companies have gotten away with way too much for way too long. This results in life threatening negative impacts on the endangered Southern Resident Killer Whales whose population numbers only 84. It also is no peace on the water for Lifeforce volunteers.

Company threats have been escalating. During the Vancouver Aquarium beluga captures in the 90s the RCMP did charge one their hired guns for ramming our little boat and injuring a Lifeforce volunteer.

The public does not know that this is happening in BC/WA waters. This is only against Lifeforce. Why? Lifeforce does not approach any of the companies. We monitor and photograph violations from a distance. Our documentation has led to fines and that is why the companies want to stop Lifeforce.

"I have put up with all the harassment, threats, intimidation tactics and false radio accusations for years but now some companies have escalated the attacks. It is the companies who are acting like it is a war on the water, stated Peter Hamilton, Lifeforce Founder, " Lifeforce is not promoting violence we are reporting it. Lifeforce proposes vigilence and public awareness. The whale watch companies are causing the battles. If Lifeforce can get donations to be back on the water this year we want to be safe. We want these bullies to stop!

Video and photographs are available upon request.